DVD Of DJ Diego García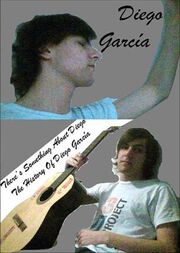 This DVD reports the life of the Argentine musician and also it(he,she) contains mas material in order that you could enjoy your history.
In the DVD it is possible to find ringtones, wallpapers of his(her,your) tour Burnin ' Up 26 digital photos. The spots of his albumes and the pop videos of each one of you them were of your discs, Diego García and Nuclear Virus.
The histories inside the DVD tell the beginnings in the music of the young composer from very under in 2000 up to the current importance with your first album and his Nuclear tour Virus and what one comes with your second album of studio
Album: There's Something About Diego: The History Of Diego García
Released: TBA
Record Time: 2008(March-September)
Genre(s): Electronica
Length: 43:32
Label(s): TBA
Tracklist
Edit
Album Info
Interview Info
#
Title
Time
1
"Intro"
0:22
2
"First Single And New Sensations"
1:18
3
"Computer & Radiolactive Music Lab Part 1"
2:16
4
"Computer & Radiolactive Music Lab Part 2"
1:34
5
"I Hate My Bad Songs"
3:52
6
"Infuctious Substances & The New Styles"
3:22
7
"First LP Or Album With Your Singles"
3:50
8
"The Information & The Best Featuring"
2:56
9
"House Style & A Brand New EP"
1:05
10
"Bad Music"
0:41
11
"Start The Official Music & Official Albums"
1:36
12
"The First Album With Your Editions & Bonus García Edition"
3:07
13
"Bonus Track Edition"
1:02
14
"Gold Edition & Singles Of The 3 Editions"
1:48
15
"Nuclear Virus & Tours"
2:15
16
"The End"
0:35
Diego García
Edit
Burnin' Up
Klaxon Beat
Practic Techno
Nuclear Virus
Edit
Hasta Donde(The Love Chronicle)
Techno Logic Radiation House
Toxic Waste Manager
MP3 Tones
Edit
-Burnin' Up(Featuring Matias Salmona)
-Klaxon Beat
-Practic Techno
-Radiolactive Music Lab
-S.O.S.
Diego García Album
Bonus García Edition
Nuclear Virus
Nuclear Virus Offcial Spot
Mini-Spots
Edit
Diego García Album
Bonus García Edition
Nuclear Virus
Wallpapers
Edit
In The Bedroom
In The Bus
In Your Family Holiday
--DJDiegoGarcia 01:42, 21 May 2008 (UTC)
Ad blocker interference detected!
Wikia is a free-to-use site that makes money from advertising. We have a modified experience for viewers using ad blockers

Wikia is not accessible if you've made further modifications. Remove the custom ad blocker rule(s) and the page will load as expected.