Ad blocker interference detected!
Wikia is a free-to-use site that makes money from advertising. We have a modified experience for viewers using ad blockers

Wikia is not accessible if you've made further modifications. Remove the custom ad blocker rule(s) and the page will load as expected.
Album Of DJ Diego García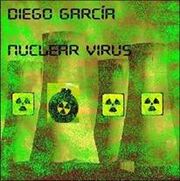 Nuclear Virus is the DJ's second album of DJ Diego García, that goes out to the sale the February 20, 2009 with the complete tracklist. DJ Diego García composed the songs in the middle of your " Burnin' Up Live Tour 2008".
DJ Diego García began your "Burnin' Up Live Tour 2008", the January 10, 2008 in the one that promoted some songs of the second studio album of Nuclear Virus, the tour close the April 18, 2008, for Capital Federal, Buenos Aires (Argentina). Most of the shows I manage to present as very much 4 songs of Nuclear Virus.

Tracklist
Edit
Standars Edition
Edit
World Premier: Limited Edition (September 30, 2008), Standar, Argentina, American Edition, UK (March 29, 2009), Australian (May 25, 2009) & Japanese (July 5, 2009) (2008-2009)
Edit
Nuclear Virus
Toxic Waste Manager
Techno Logic Radiation House
Year 3000(Featuring Matias Salmona)
I'm, I'm, I'm(Like No Other)
The Stars Are Rain(Featuring Matias Salmona)
Dangerous
Synthpop
BB Good
Hasta Donde(The Love Chronicle)
Hold On
Inseparable
Video Girl
Don't Take My Heart And Put It On A Shelf
Bonus Track
Edit
15. Musica The Music
--DJDiegoGarcia 01:42, 21 May 2008 (UTC)